If your interests lie in the area accessibility, you need to get to know Polish experts in this matter, Work from Bed. It's a marketing agency established to create workplaces for people with mobility disabilities.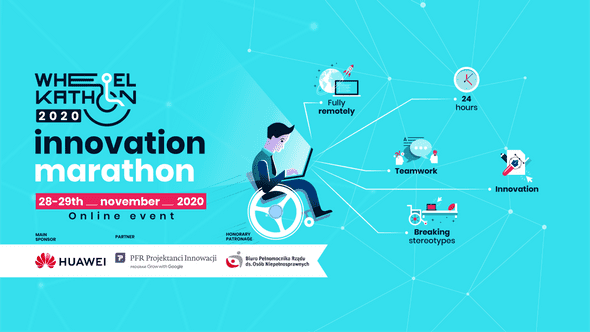 The global pandemic forced us all to take conferences, hackathons, and workshops 100% online. Just recently, we ended the online hackathon which aimed at disrupting the way we think about communication. While the hackathon was held for external partcipants, LiveChat regularly organizes an internal event, Side Project Day – an inititive brought to life to foster creativity within our organization.
One of the ideas born during Side Project Day was an AI-powered feature that would allow people with motor impairments to chat with agents using head movements. You can read more about on dev.to. (The project is still in an early development stage; if you'd like to contribute in any way, contact us.) All of that inspired us to dig deeper into the topic of software accessibility, and that's how we found out about Wheelkathon.
This year, the Work from Bed team is running the second edition of Wheelkathon, an online hackathon focused on creating accessibility solutions. Participants can form groups of 4-6 members and choose among topics, such as ergonomy in the workplace, autonomy, urban mobility, and several more. Since the topics touch on a variety of areas – not only software – everyone's invited to take part in the event.
As Majka Lipiak, CEO at Work from Bed, says:
The main goal of Wheelkathon is to exchange knowledge and experience, to create solutions that will improve the quality of life and work for people with disabilities, to network, and to build a strong community of people concerned about accessibility.
The whole event will be led in cooperation with PFR Innovation Designers by Grow with Google. Workshops will follow the Design Thinking approach, which entails getting to know users' needs, creating innovative solutions, and prototyping. What makes this hackathon unique is the fact that participants will have a chance to validate their ideas with potential users. Among the organizers will be people with motor impairments, willing to share their feedback so that the proposed solutions have practical applications.
Wheelkathon will take place on November 28-29, 2020. To take part in workshops, you need to sign up for the event. You can do that until Nov 22. If you can't participate in workshops, you can watch the conference part online – it'll be streamed on YouTube. (The whole event will be held in Polish.)