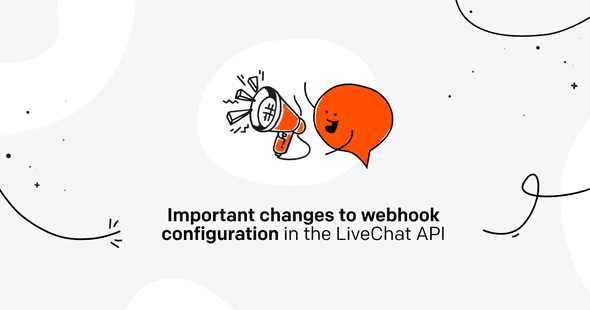 Recently, we've introduced important changes to the LiveChat chat webhooks. That information will be essential for the users of webhooks v3.2. Currently, webhooks v3.2 are deprecated, and it's no longer possible to make changes to them via Developer Console. Apart from that, they are still fully operational.
To allow a seamless transition between deprecated webhooks v3.2 and the stable version 3.3, you'll find a dedicated webhook migration tool in the Developer Console. Please note that some v3.2 webhooks may also require adjustments before the migration. To verify whether you need to make such changes, refer to our changelog.
Following the above, we've deprecated webhooks registered per license, along with the License Webhook Configurator. At the moment, it's possible to configure webhooks per application, using the Chat webhooks building block, or register and enable them by calling our API directly.
If you want to know more about how to configure webhooks via the Chat webhooks building block, you can view a tutorial on that here. In case of any questions, be sure to ask us on our Discord server 👇