The Super Vision app makes it possible to monitor up to eight ongoing chats on one screen at the same time so you can see how your agents respond to customers' questions. Georgios Kavazis — head of customer support at Notesco — shares how they use the app and its influence on customer support.
How does Super Vision work?
The app offers live monitoring of up to eight conversations on one screen, so you don't need to switch between numerous windows. This allows passive monitoring based on reading ongoing chats. Super Vision works even better for active monitoring — you can suggest messages to your agents, and only your agents can see those messages.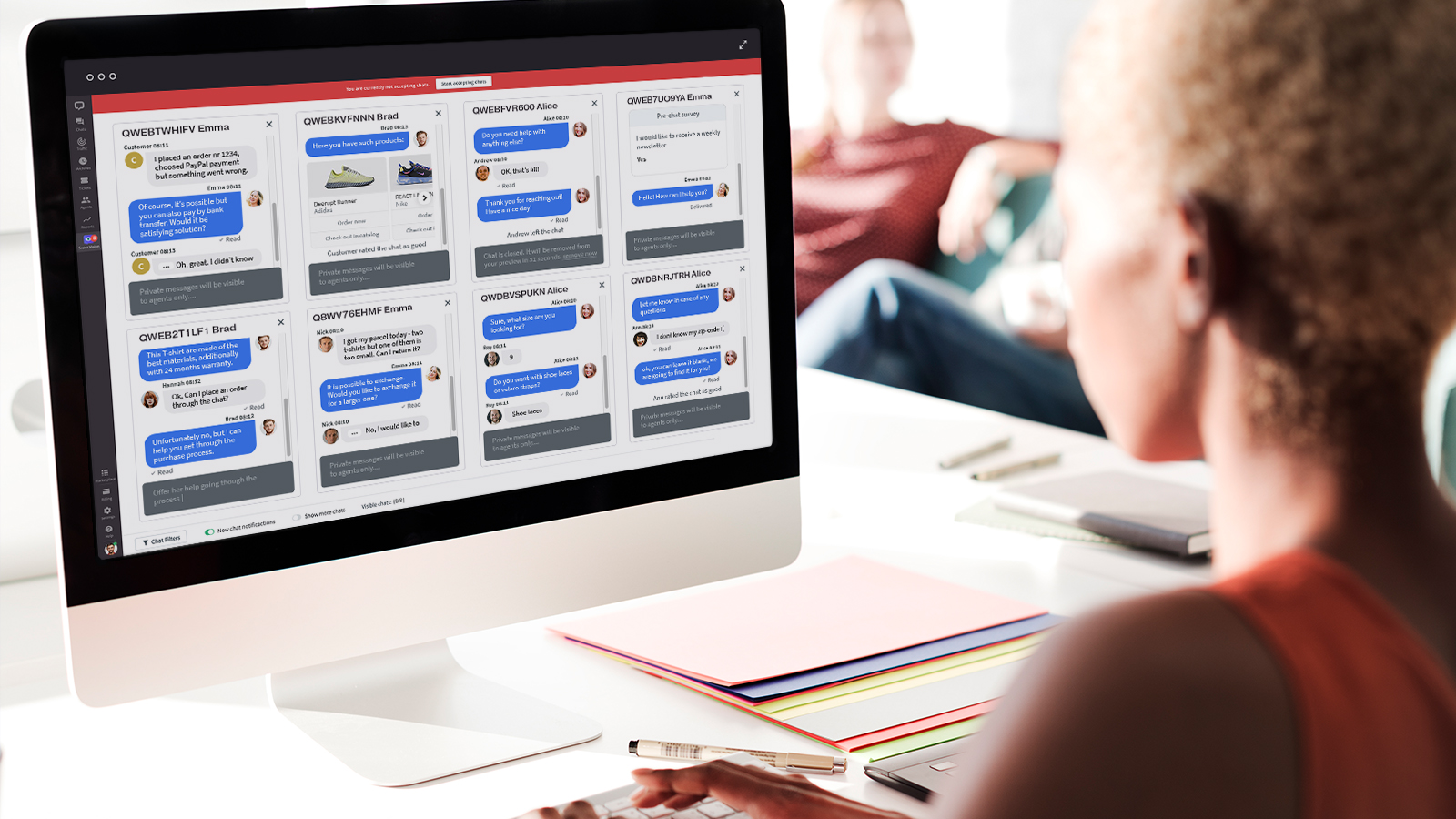 Notesco success story
The Notesco Group ("Notesco") is an award-winning global leader in online trading, with 10 trading platforms and more than 300 tradable instruments in Forex, spot metals, futures, shares, spot indices, and commodities. Founded in 2010, Notesco serves retail and institutional customers from over 180 countries. The group strives to deliver exceptional service to all its clients. They offer dedicated client support, including chat in 30 different languages, and 24-hour support, five days a week.
Notesco has been using Super Vision since May 2021. Their customer support team consists of 18 people — six of them use the app daily. Georgios Kavazis highlights that they use the app to monitor chats and upskill team members to provide top customer satisfaction.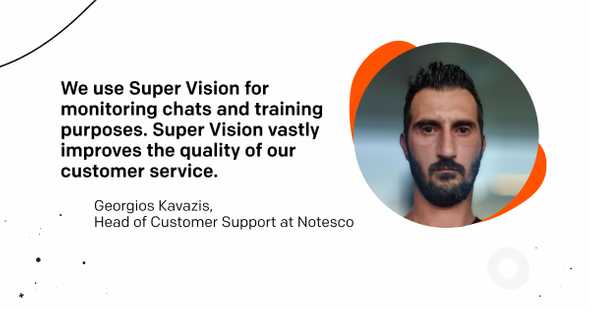 Notesco uses Super Vision as a training tool for new agents. The agents also get to know the rules and level of customer support that is expected from them. Eventually, the time comes for an agent to face real chats with actual customers who ask questions and need solutions to their problems.
The folks at Notesco believe in a hands-on approach to agent training — they introduce new agents to real chats as early as the second day at work. Georgios Kavazis says that new agents can only get one concurrent chat at a time. More experienced agents use Super Vision to monitor the chats of their new colleagues. On the one hand, this approach puts more pressure on the newbies, but on the other hand, it also makes the learning process much faster.
It feels rewarding to assist a new agent in person and tell them what we liked in how they replied to customer messages. But what if there is only one supervisor that needs to monitor more agents? What if agents are working remotely from different locations? This is where Super Vision comes to the rescue!
The supervisor on your side can select which agents and/or groups they want to supervise and see everything that happens inside active chats in real time. The sneak peek feature known from LiveChat works inside Super Vision too. It enables supervisors to help an agent by suggesting answers even before a customer sends their message to that agent. With all those possibilities, it's much more convenient to upskill agents, Georgios Kavazis says.
It can happen that an agent makes a mistake while preparing an answer to a customer's question. Such mistakes can sometimes ruin customer experience in the long term, but Super Vision offers an additional line of defense against them. Supervisors equipped with Super Vision can easily read exchanged messages and react when they see any mistake made by an agent. Georgios Kavazis confirms that monitoring agents, especially new ones, makes it very easy to prevent those mistakes.
The story behind Super Vision
The app was created by .BespokeChat, a chat contact center from Poland that provides managed chat for numerous businesses from various industries. It has always been key to provide quick and accurate chat answers based on knowledge provided by customers. The company has been working fully remotely from the beginning, so there was never an option for agents to be accompanied in person as a part of the training.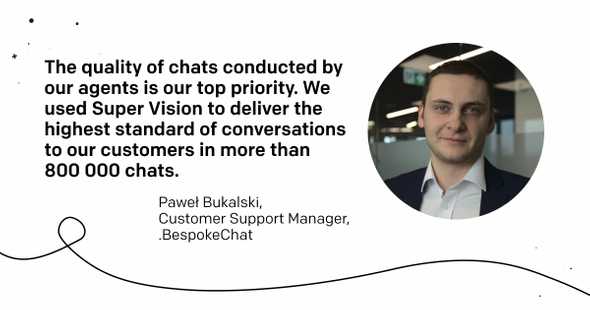 We created Super Vision to give instant feedback and monitor active chats in search of mistakes. .BespokeChat strives to share customer support best practices, so they decided to open Super Vision to other companies via the LiveChat Marketplace. Now, anybody can use a very specialized tool used by a professional chat contact center.
Check out the short video below to see Super Vision in action. Get the app on the LiveChat Marketplace and see how it works during the free trial period.