Let's give a warm welcome to the newest asset in the LiveChat Developer Console, which is the Research Toolkit. Building this tool, our aim was to equip Console users with information about LiveChat customers, which in result would help developers tailor their ideas for apps even better. But how exactly does the Toolkit help with that? Read on or watch the video below to learn the details.
Our Research Toolkit divides the data into three categories:
Customer overview
This category includes general information about LiveChat customers, such as the number and size of our customers' licenses, their business industries, and location.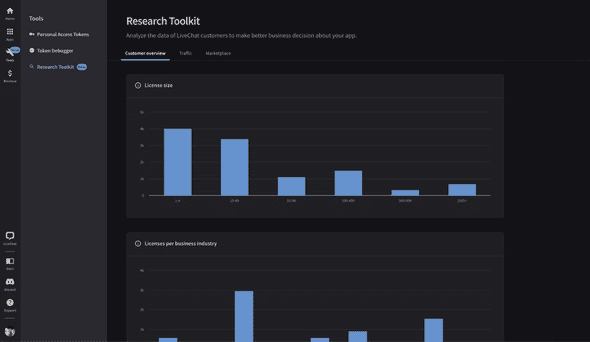 Traffic
This section contains more detailed information about the LiveChat licenses, such as active agents on customers' licenses and the number of chats inside their accounts. You can narrow this info down by account business industry and/or license location.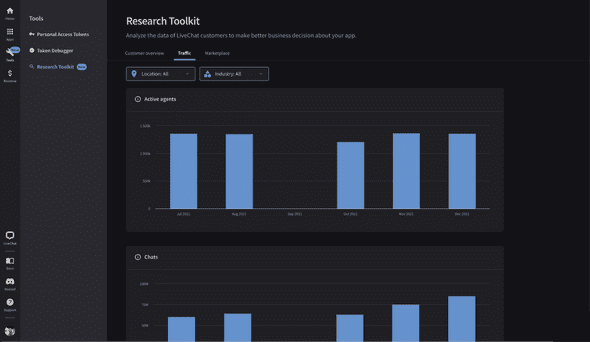 Marketplace
This is a tab where you can find the finest Marketplace data — from the number of apps published on the LiveChat Marketplace to the number of views our Marketplace received as a whole within a specified time range.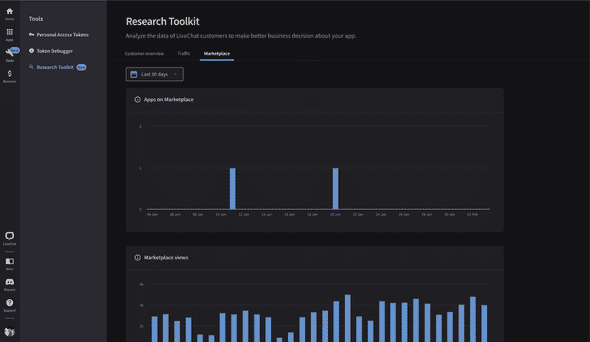 To make the information as accurate as possible, we also included filters so you can narrow down the data to specifically what you're looking for. Such filters allow you to choose the location or the business industry that LiveChat licenses are assigned to.
We believe that knowledge is always one of the most powerful resources you can have. Thanks to the data from our Toolkit, you'll be able to tell more precisely whether there's a market for your idea or the product you want to build.