Are you dreaming of a rapidly growing business, yet you don't have the resources to fully devote your time to the idea? Do you care deeply about long-term and secure relationships with your partners? Or maybe you run a promising startup, but lack the knowledge to successfully push your product out to the market? If you answered yes to one of these questions, let me tell you about the LiveChat Incubator.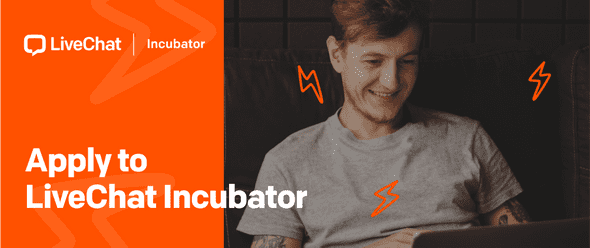 If you aim big and want to build advanced solutions to improve the future of online communication, we have a partnership deal for you. The LiveChat Platform stands strong for cooperation in developing innovations in business — and we want to open these doors for external developers as well.
Having in mind what the Developer Program already offers, we wanted to introduce something entirely new to the business communication scene. We're now looking for innovators with a mindset similar to ours and hope to invest our time, experience, and resources into your very own product and deliver it to the market of the business communication industry. The LiveChat Incubator initiative is designed to teach you how to successfully build a product or solution, and establish a solid product-market fit and go-to-market strategy.
Applying for the LiveChat Incubator opens doors to many amazing opportunities for ambitious teams. With more than twenty years of experience, the LiveChat team can share its insights about the market, so you can avoid steering into entrepreneurial pitfalls and get access to unique distribution channels, including a customer base of 35,000+ users.
LiveChat Incubator participants will also have access to all the Platform's assets, website widgets, as well our entire infrastructure. You'll have the opportunity to fully develop your ideas with the support of the LiveChat team - experts in every field of product development. We're ready to devote our resources and time to entrepreneurial teams and spirits with brilliant product ideas.
Let's shake hands and work towards your success together!