Having your own application is a much larger task than simply writing and focusing on the quality of your code. It tends to come with various hardships: from marketing challenges to the tactical planning of the application structure - even your whole company's business plan. We believe that with the right mindset and good preparation, you can overcome any challenge thrown your way!
Today, we're talking with Spencer — the owner of Median, a co-browsing product that's also available as an app on the LiveChat Marketplace. Read on to see his thoughts on building apps from a business owner's perspective.
LiveChat: Hi, Spencer! So, let's start with the main question. Can you tell us why you decided to build with the LiveChat Developer Program? Was there any specific factor that convinced you? Or was this a natural progression to expand your company's reach and audience?
Median: Great question! To be totally honest, I acquired Median in 2020, and we already had a basic LiveChat integration in place. During the transition part of the acquisition, I was introduced to a few members of the team at LiveChat. After I took over, I decided to reach out to all of our integration partners and ask what we could do to support them better.
On the call with LiveChat, I was introduced to Michał Cichocki, who invited me to connect via Slack. After talking with Michał a few times, he asked us why we aren't yet a part of the Developer Program. Frankly, my answer was: "What Developer Program?"
So, after that, we worked directly with Michał to rebuild our LiveChat app from the ground up. Since our core customers prioritize a chat tool before a screen share tool, it just made sense for us to focus our energy with our chat partners. After talking with all 12 of our integrators, LiveChat by far offered the most support and most opportunity.
LiveChat: That's great to hear! Were there any challenges that you had to overcome in the whole application development process? Were there any unexpected obstacles? How did you solve them?
Median: Being totally honest, I thought it was going to be a simple build it and ship it scenario, but it was different than that. The approval process was much more difficult than I expected.
I would make the argument that version one of our app met all of the documented requirements, but there are a number of other requirements along the way, like style guides and other things that ended up draining a bunch of time and development resources. In an effort to get the app approved, we ended up removing some of our core features and functionalities. However, as we're now more experienced with the review and development process, we plan to add the features back to the app.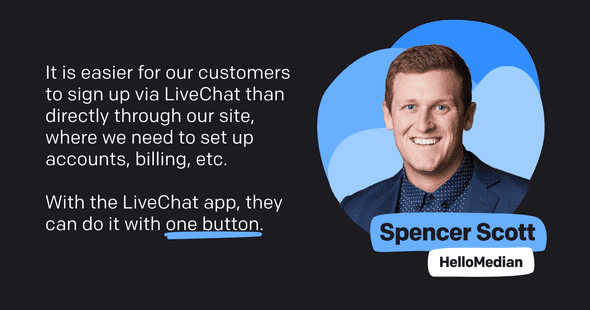 LiveChat: Can you share which of the features in your product was the hardest to implement in the app? Did it end up in the final version of your application on the Marketplace or did you decide to remove it as well?
Median: The feature that was the hardest to implement was being able to link a new LiveChat app with existing customer accounts. In hindsight, we shouldn't have added this feature since we added the "log in with LiveChat" option. This causes confusion, and people don't know if they should sign in with Median or LiveChat. However, it ended up in the final deployment. Another feature we decided not to add was live video and audio, but we plan on adding that in the future versions.
LiveChat: That's great! So since there's definitely some progress in your sales, have you set any milestones in terms of app installation rate, revenue, etc.? Did you reach them, or is it a work in progress?
Median: Good question. Our initial Milestone was to break even based on what it cost us to build the app. I believe we are a few thousand dollars short of that number but are on pace to hit it this year. Ideally, we would like to hit $10,000 a month. We are currently at $1,000 so we would like to increase our revenue ten times in the next 8 months.
LiveChat: So how do you handle the marketing and promotion of your app to reach this goal? Was there anything that turned out to be exceptionally successful in boosting sales?
Median: We have attempted 3 marketing strategies:
First, we reached out to every single LiveChat customer with a LiveChat customer success story on this page. This resulted in our first few customers.
Second, we used BuiltWith to pull every active website that LiveChat is installed on. We then used a number of email tools to reach out and promote our product. This has not worked well.
Third, we wrote this blog "5 LiveChat apps that will save you time" and ran a number of paid ads to it. This has been our most successful marketing campaign.
LiveChat: Are you actively trying different marketing strategies for your app's promotion? Can you share how do you get your ideas for different campaigns and approaches?
Median: Yes, we are willing to try every marketing strategy under the sun!
Our partnership with LiveChat matters more to us than you could ever imagine. If we have success, it's proof we are on the right path. Plus, it is easier for our customers to sign up via LiveChat than directly through our site, where we need to set up accounts, billing, etc. With the LiveChat app, they can do it with one button.
As far as marketing ideas go, we know we need to reach the LiveChat customer base, and knowing that makes the messaging easier. Our main problem is that 99% of LiveChat customers don't know we exist — if they did, we are convinced they would be using the tool. It's truly a game changer!
So for ideas, we are thinking of ways we can reach the LiveChat customer base without being spammy or salesy. Emails are an easy win, but they tend to be intrusive. Paid ads are also great, but they're often spammy. Blog posts about how to use LiveChat have had the best ROI so far. SEO is great — it's free, and people who are shopping for a solution will find you, but it's often out of our control. We have done one partnership promotion with the LiveChat team so far and it was also nice, but again, it's out of our direct control.
LiveChat: And how has LiveChat been helping you promote your app? Did it pay off?
Median: So far, we worked with LiveChat on one custom email campaign. I believe we landed 1 customer from it. But we would love to do a lot more with the LiveChat team!
LiveChat: And do you plan to build other apps for the LiveChat Marketplace in the future to advance the partnership even further?
Median: I do not think we plan on building more apps for the LiveChat Marketplace; instead, we are interested in improving our app. If there was a more clear way to revenue with the LiveChat Marketplace, we would build more apps. Sometimes it feels a little like being on an island — if we want to survive, we have to learn to feed ourselves.
LiveChat: Do you already have ideas for the improvements you'd like to make in your app?
Median: So in order to for us to be approved by the LiveChat Marketplace team, we were asked to remove some features from our tool, as they either were confusing or didn't meet the design requirements for LiveChat. Now that people are using our tool, we would like to add the features back in. A big feature update will be live video and audio.
LiveChat: That's cool! And what's your opinion on cooperating on the marketing of your app with LiveChat — how would you rate this process and the given opportunities?
Median: One of the things I think the LiveChat Marketplace has done extremely well is the revenue share model. We love it because it incentivizes the LiveChat team to sell our product.
LiveChat: And if you were to start over with building apps with LiveChat, would you do anything differently?
Median: Yes, and don't take this the wrong way, but I would invest less time in developing the app in its beginning stage. We spent a lot of time and money trying to make the app perfect for a "launch", thinking we would get a huge influx of businesses right away. The reality is, we could have shipped a simpler and cheaper app, then just improved it as revenue and demand increased.
LiveChat: That's indeed a very interesting take to consider. So, based on your overall experience, do you have any other advice for developers who are just starting out with building and monetizing LiveChat apps? It can be anything, from development to marketing!
Median: My advice would be to not build anything until you have a sizable number of LiveChat customers committed to a product. Then, build once you have customers. From my experience, you can't ask or expect anyone to promote your product. You have to assume you will do all the marketing alone and any else that happens is just a bonus.
LiveChat: Thank you, Spencer!