The live coding session draws near and our final preparations are being readied. Before the event takes place, we'd like to share some details about the agenda for the session and shed more light on the app we'll build together.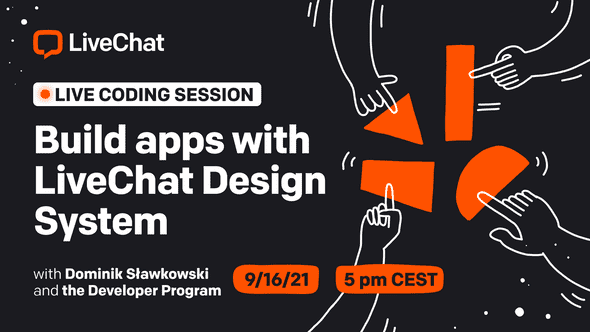 Align the design of your app with the LiveChat look and feel
As announced, our upcoming live coding session will be dedicated to the LiveChat Design System, a library of React components. They're completely consistent with the LiveChat Agent App design, which makes it super easy for developers to build an application that goes hand in hand with the LiveChat look and feel.
Code-along and build an app with us step by step
Together with Dominik Sławkowski, a frontend developer from the Developer Program team, we'll be building an integration to connect with the Giphy engine. The app will be able to display, search for, and send gifs to the customer — right from the chat. We'll also add a history functionality so we can review which gifs have been sent to customers, along with a date filtering option. Additionally, we'll implement a "favorites" feature.
Our application will have a custom Settings page built through the Developer Console. This will ensure the app settings are always styled and displayed flawlessly. Optimize your development with ready-to-use components and save more time for perfecting your application's code!
Boost your practical UX skills
During our session, we'll also tackle broader design topics. These include good UX practices you can implement in web applications, followed by anti-patterns you should avoid so that you keep the design of your app crisp and clear. Improve your skills and learn how to effectively implement all this freshly gained knowledge into your designs.
Join the session and win a prize
Is the session worth your time? If you're still hesitant about it, here's a little sweetener. After the session, participants will receive a coding task to resolve. The first person to submit a correct solution will be the lucky winner of $300 assigned to their Developer Account in the Developer Console.
Hope you're excited, because we sure are! Save the date and join us to code together on September 16, 5:00 p.m. CEST.
💡 Get to know the details about the LiveChat Design System >>