Have you ever wondered how to become a software tester? Sometimes, your best career choice can arise unexpectedly. A similar situation happened to Krystian Kozak, a senior tester in the LiveChat Developer Program team. During our [Get to know us] interview, we talked about his quality assurance journey and his approach to software testing. Krystian also shares valuable tips for not only beginner testers but also many other people in the industry. Interested? Grab a coffee and read on!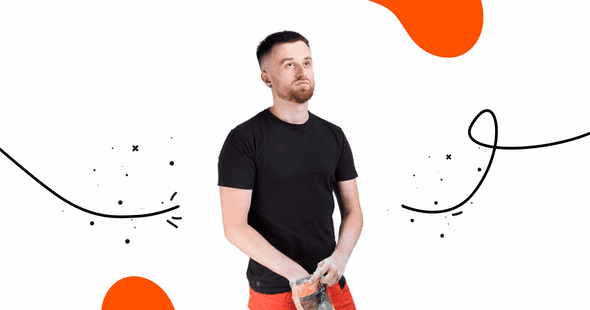 Oliwia: Hey Krystian, good to see you! Thank you for joining me today.
Krystian: Hi, it's great to see you too.
Oliwia: Alright! Let's start with a general question first. Could you tell me more about your daily tasks as a quality assurance specialist? How would you describe this profession?
Krystian: The main objective I'm responsible for is ensuring the high quality of our services. You could say that service quality consists of various aspects. To list them, it's analyzing features and their use cases as well as requirements for validity or even feasibility. Of course, you need to know how to detect and track software inconsistencies, bugs, and defects. What's more, you also have to outline and then prepare automation code scripts when needed and consider different test cases. As a software tester, you execute many different levels of testing, including manual and automated tests. I'd say that the key is to provide all these solutions in a timely manner.
Oliwia: As for automated tests, how much do you feel these connect with coding? Do you need to have a lot of knowledge about how the code works? Or is it rather more about how to discover code defects and how quality code looks?
Krystian: To be honest with you, when I started my journey with automated tests, I had almost no knowledge about coding. However, knowing how the code written by a developer works is very precious – it helps testers understand the functionality they're checking in depth. I believe that coding knowledge is definitely a great skill to have for a software tester, I'm doing my best to improve mine every single day. I'd even say every person working in the quality assurance industry should focus on improving their coding skills as well.
Oliwia: What about your learning process of software testing overall? Do you have a degree in computer science, or did you gain your knowledge somewhere else?
Krystian: No, I don't have a computer science degree. I'm a manufacturing engineer by education. I started my tester journey quite accidentally, through student internship in the financial sector during my studies. When it comes to software testing, I consider myself a self-taught man. Being able to learn on my own is a quality that helped me a lot in improving my technical skills too. It also motivates me to search for better and better quality assurance solutions that I'm trying to implement in our company.
Oliwia: So you'd say that you can learn just as much on your own, right? That's definitely a good point! Was this internship you mentioned a part of your studies or were they optional that you took out of interest?
Krystian: They were optional, but I decided to apply for them. I remember that I had to visit my university dean and say that I'd completed my employment practices. The thing is, they weren't related strictly to production management, and in fact, they should've been. In my defense, I mentioned to the dean, "I don't think I'll be working as a manufacturing engineer in the future. During my practices, I discovered I was interested in software testing and programming." The dean didn't really want to accept that I had completed practices unrelated to my major, but eventually, she said, "Alright, let it be."
Oliwia: As you decided on your career switch quite unexpectedly, did you find anything surprising at the beginning? Or was it just as you thought it would be?
Krystian: As far as I remember, there was one thing that really bothered me. There are times when people are skeptical of new solutions that can potentially improve the quality of delivered products. I think the key to maintaining great software quality is to be open-minded and always search for improvements that can help us deliver a better product. My personal suggestion is not to be afraid to ring the changes.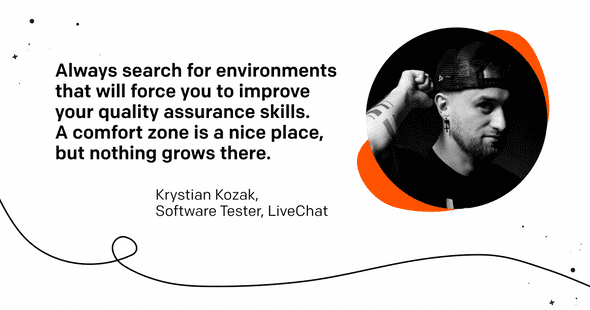 Oliwia: That's a surprising observation! Speaking of success, what would you say is the most rewarding part of your day-to-day work?
Krystian: I think the most rewarding aspect of my work is the peace of mind after delivering a new functionality in the product. It's especially great if that functionality has some business value for our customers. I can actively participate in how our product and projects evolve and see the benefits our software brings to our users.
Oliwia: Very nicely said. In a customer-oriented company, it's definitely a good value to keep in mind. Staying on the topic of great values, what would you say are the skills that a great software tester should have that not all testers have?
Krystian: Everyone should keep in mind that a great QA engineer is not only responsible for testing and coding. They're also responsible for adding to the company's business value. You should focus on keeping the product intuitive and easy to use and construct all new features with that in mind. As for soft skills, I think good testers should have an analytical mind and good communication abilities. Of course, to become a software tester, you should also know how to work with a team – speaking of LiveChat, teamwork is one of our company's core values. I'd also say that one of the crucial skills for a tester is being able to plan your projects and manage your time. You should be able to organize your tasks and workload to not overwhelm yourself with them.
Oliwia: Surely! These are great. I'd even say a lot of these skills can also apply to different professions. Now, let's focus exclusively on your personal experience. Is there anything you'd consider unusual that helps you with your daily work?
Krystian: I listen to a lot of lo-fi music during work, it helps me to focus. After work, I keep myself busy lifting weights, I also believe that proper brain nutrition is very important. For me, a balanced diet and supplements are paramount to being deeply focused during my daily work.
Oliwia: Nice, keeping your body in good shape is definitely beneficial for your mind too. Apart from the physical aspects, do you have any advice for beginner testers?
Krystian: I have one fundamental piece of advice: always search for environments that will force you to improve your quality assurance skills. A comfort zone is a nice place, but nothing grows there. It's also worth noting that when you're a beginner tester, you won't have to write a lot of code. It's great to evolve your coding skills, but you don't have to stress yourself over it too much.
Oliwia: Indeed, it's important to remember that if you want to grow, you need to push yourself out of your comfort zone. Alright Krystian, that's all from me for today. Thank you for all of your answers!
Krystian: Thank you! It was a pleasure.