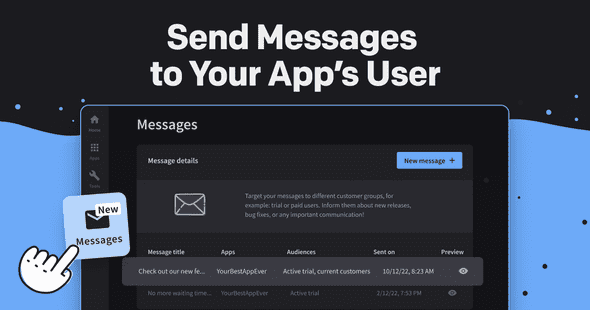 Communication with your customers is essential to maintain good relationships with them. As an app creator, you often need to inform your customers about updates, fixes, and promotions connected with your app so they can use and enjoy it in the best way possible. LiveChat knows this, and that is why we are happy to tell you that our Developer Console allows you to send one-way messages to your paid app's users!
What is the Developer Console?
Our Developer Console provides developers with easy access to the tools and resources necessary to build applications & integrations for our two products, LiveChat and HelpDesk. It is also a space where you can share your knowledge or seek inspiration. If your app can be useful for others, the Developer Console allows you to publish it on our Marketplace and, at the same time, earn some money.
💡 If you want to learn more about building apps and integrations for our products, read:
Communication Center - a new functionality in the Developer Console
Have you created and published your app but are worried its users will not be informed about recent updates or bug fixes? Do you have an idea for an app but don't know if it is possible to ask users for feedback crucial for your app at the beginning? Would you like to be able to send messages to the users of your apps because you know how important communication with customers is?
If you have any of these thoughts in your head, no worries! Communication Center is a new functionality in the Developer Console that allows paid app creators to send one-way messages to their users. Thanks to it, you can ask your users for feedback and inform them about new releases, updates, bug fixes, and all other essential info. There is also an option to target your messages to specific customer groups like trial customers or paid customers so your messages can be better adjusted to what you want to say and to whom you want to say it to. All these actions will allow your users to use your app as efficiently as possible, be updated, and have a better relationship with you.
How to create and send messages
Even though it may seem like a complicated functionality, sending messages to your users is just a few steps.
Step 1 Where to start
Go to the Developer Console and click the Messages tab on the left sidebar. In this tab, you can start creating new messages and see the list of those previously sent.
To start creating your first message, click the New message + button.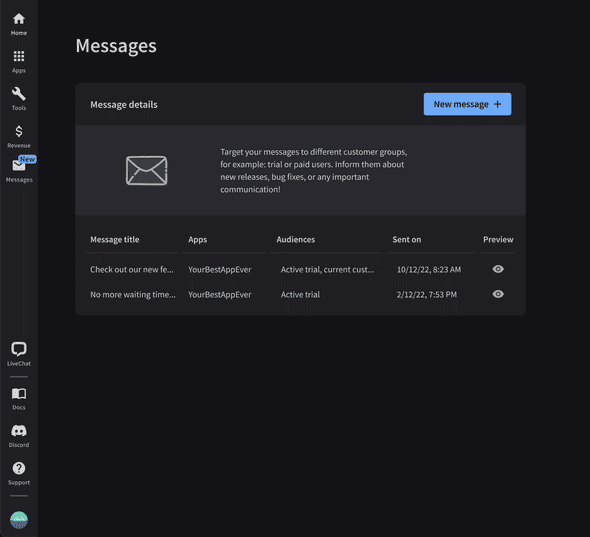 Step 2 How to create a message
The New message window requires you to fill in some necessary information:
Apps - choose the apps with the customers you'd like to reach. Please be aware that you can only send messages to the users of the apps that are published and paid.
Audiences - choose specific groups of customers based on a particular event.
Title - give the title to your message.
Content - write the body of your message.
After filling in all the necessary fields, check the preview of your message and click the Send message button.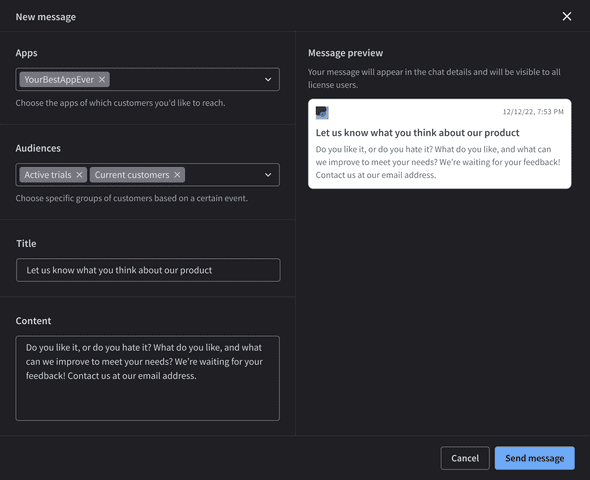 Step 3 Where to see your message
Your messages will appear in the Chat Details of your LiveChat or HelpDesk app and will be visible to all license users.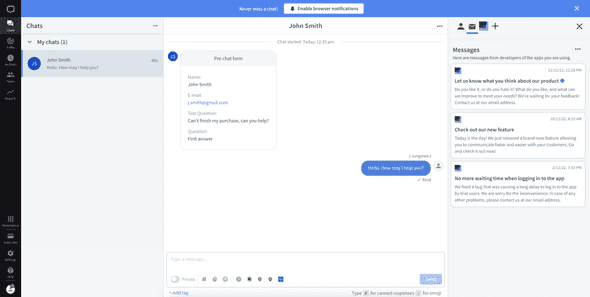 Sample messages that can be sent
Not sure what messages can be sent to your app's users? Take a quick look at 3 sample messages prepared by us:
💡 Feedback
Apps: YourBestAppEver
Audiences: Active trial; Current customers
Title: Let us know what you think about our product
Content: Do you like it, or do you hate it? What do you like, and what can we improve to meet your needs? We're waiting for your feedback! Contact us at our email adress.
💡 Update
Apps: YourBestAppEver
Audiences: Active trial; Current customers
Title: Check out our new feature
Content: Today is the day! We just released a brand-new feature allowing you to communicate faster and easier with your customers. Go and check it out now!
💡 Bug fix
Apps: YourBestAppEver
Audiences: Active trial
Title: No more waiting time when logging in to the app
Content: We fixed a bug that was causing a long delay to log in to the app by trial users. We are sorry for the inconvenience. In case of any other problems, please contact us at our email adress.
Don't hesitate to try our new functionality out, so the communication with your app's users can start now!
If you need help along the way, you can always reach us at developers@livechat.com