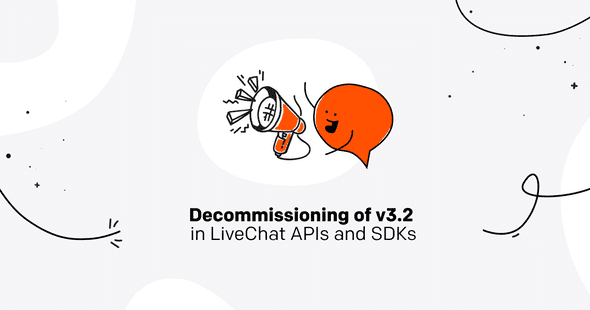 We would like to inform you that we'll be dropping support of v3.2 in LiveChat APIs and SDKs at the end of March 2023. The change concerns the following services:
In the Configuration API v3.2 and below, webhooks and properties were registered per license, whereas in v3.3 and higher, they are registered per application and enabled (turned on) per license. All this means is that starting from v3.3, it's the application, not the license, you register webhooks and properties for.
Make sure to migrate your application to v3.3 or, most preferably, to the current stable API version (v3.5) by 31-03-2023.
If you use version 2.0.4 (or lower) of the Customer SDK to implement your widgets, upgrade it to the newest version (3.1.1), as the old version uses API v3.2.
For more information, read the Webhook migration guide from v3.2 to v3.3 and the guide on how to configure properties with LiveChat API v3.3+.