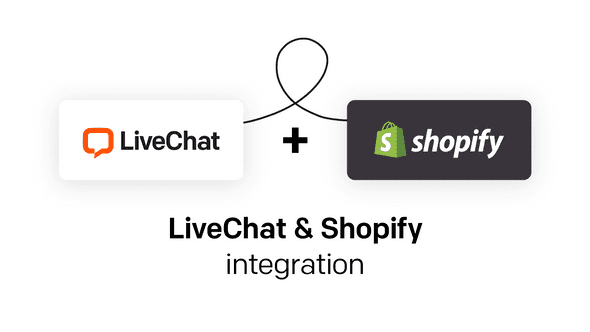 TL;DR;
Customer Insight was created for all ecommerce business owners, who aim to provide excellent live chat customer support on their Shopify websites. The app displays all the important info from Shopify in the LiveChat Application. It gives you access to detailed customer information, transaction history, real-time cart preview, and Product Cards.
In other words, it's a powerful tool for leveraging your online business.
Comes with the LiveChat for Shopify integration
To start using Customer Insight, install LiveChat for Shopify. It'll add LiveChat to all your Shopify websites and give you out-of-the-box access to Customer Insight and Product Cards. The whole process is fully automated. No coding along the way.
If you already use LiveChat, migrate to the latest version of the LiveChat for Shopify integration. Reach out to us if you need support.
Gives access to customer info without leaving the chat
When a customer starts a chat, the app fetches the customer info from Shopify and displays it in the Customer Details section. To see this info, the customer needs to be logged in your Shopify store. For a not logged in user, the app will display an overview of the current situation in your store.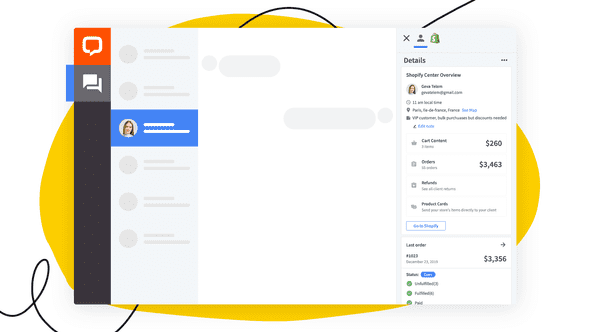 Lets you monitor your customers' carts in real time
Customer Insight gives you insights into what your customers have in their carts. The info is updated in real time, so whatever changes in ther cart is instantly reflected in the application, keeping you up to date.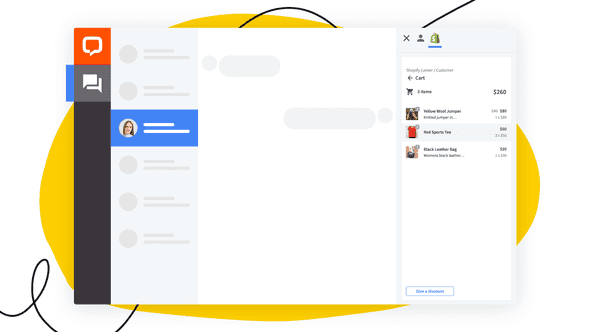 Take advantage of this knowledge and suggest your customer similar or complementary products. To make it even more appealing, use Product Cards, which are part of the LiveChat for Shopify integration.
Enriches chats with Product Cards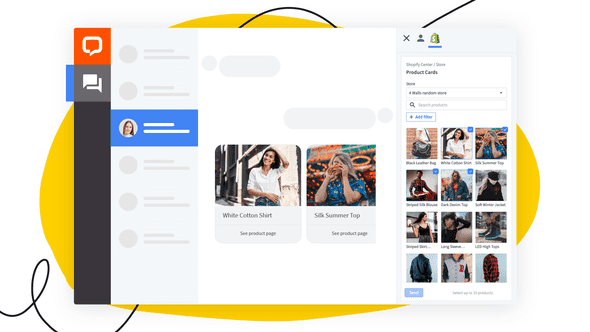 Product cards are a way to send engaging and visually appealing product invitations. All you need to do is create a collection of cards. Each card consists of an image, description, and a link to your product. In your chats, use product cards for recommendations, and save time on switching between software to copy and paste links.
Enables managing orders right in the LiveChat App
Oftentimes, customers staring a chat on your website may have a problem with their orders. Instead of jumping between your chats and the Shopify Center, you can search and verify orders right in the LiveChat App.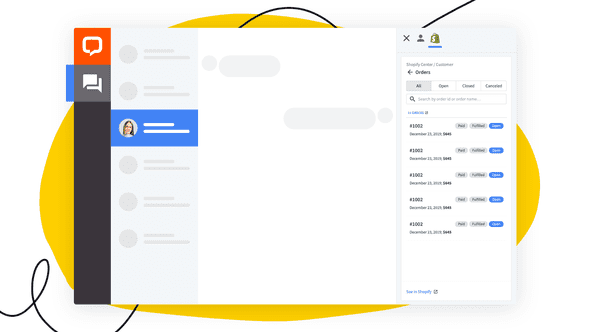 Manage orders by changing their statuses, add notes, look up the transaction history, track order shipment, and manage its fulfillment. For more details, you can always click the link that takes you directly to Shopify.
Is built with the tools from the LiveChat Platform
We created this integration with the tools publicly offered by the LiveChat Platform. At its core, the app uses Agent App SDK, which is the primary way to build LiveChat integrations. If you're a developer interested in building and monetizing apps, use Customer Insight as an example of how to use Agent App SDK in action.
Next steps
I'm new to LiveChat and want to try out Customer Insight: Head to Shopify App Store and install LiveChat for Shopify.
I already use LiveChat for Shopify: Migrate to the latest version of the app.
I'm a developer and want to build apps: Check out our documentation or watch a webinar in which we show how to use Agent App SDK. In case of technical questions, contact us at developers@livechat.com