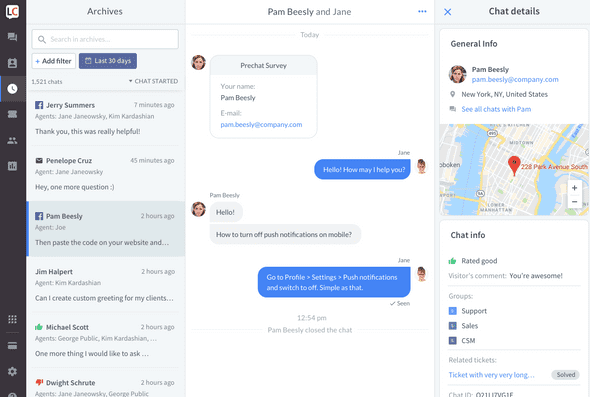 We're finally ready to show the next part of new LiveChat design: the Archives.
You go to the Archives whenever you need to look up past communication with customers. We wanted to make sure that the new version will make this common action much easier.
Check out what you can expect from the upcoming release (between late January and early February) and how small quality of life changes will aid your daily work with customers.
Bridging the gap between Chats and Archives
Having two separate ways of displaying chats: one for live conversations and another for those that happened in the past didn't seem that useful for customers. Using the opportunity, we decided to make the look of the new Archives section more similar to how the Chats section looks.
In the new design, Archives and Chats sections share many common elements, which means it will be easier to use them interchangeably in agents' day-to-day work.
Some of the similarities include:
Chats listed in the same way as in the Chats section,
Archived chat's contents resemble a normal chat,
Picture preview you know from Chats will be now also available in Archives,
Customer details section looking familiar to Chats section.
Archives get a responsive version
The new look is also available on mobile browsers. It scales to your device, which will make it more reliable to use – especially in a pinch when you're on the move!
Managers, shift leaders, support agents and any other LiveChat users who use the responsive app will now have an easier time looking up past chats while also attending to other responsibilities when away from their desktop computers.
Bringing back the detail in Details section
We've done some cleaning up in the Details section. With all the new additions, it started to get crowded and disordered. This is why we made a few adjustments to tidy it up.
Now, it's much cleaner and all the crucial customer information is readily available, including:
Customer contact information and location,
Information about the conversation (which group, what rating and so on),
On which page the chat started and the refferer that led a customer to your website,
Any integration information (depending on the integration you have enabled).
One click to see all chats from a single customer
Among all the changes in the Customer details section, this particular addition will make your life much easier. One click will now open all past chats with a particular customer. You no longer will have to search for chats with specific customers manually.
This change will help you to cut down on your response time since you will be able to understand customers and provide responses at record-breaking speeds, which will hopefully translate into boosting your customer satisfaction score.
What's more, you will now be able to sort chats by date. A small change that makes a big difference for any agent who wants to quickly look up the oldest (or newest) communication for a particular customer or segment.
The power of OR in filters
The Archives filtering option got one more improvement: the OR operator. This operator will allow you to see results that meet one OR more conditions for a specific filter instead of having to pick all the conditions in separate searches.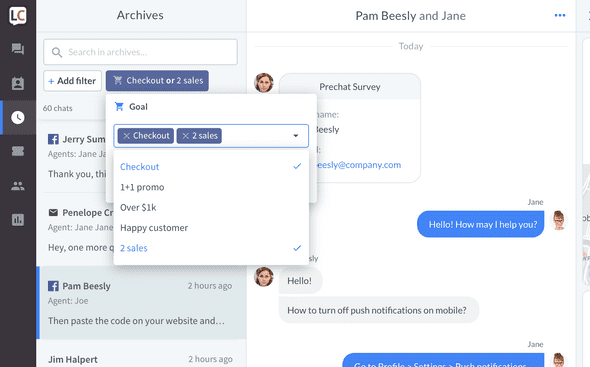 In other words, the OR operator will allow you to see the results of several filter conditions on one list. For example, you can see all your Sales or Support chats at the same time.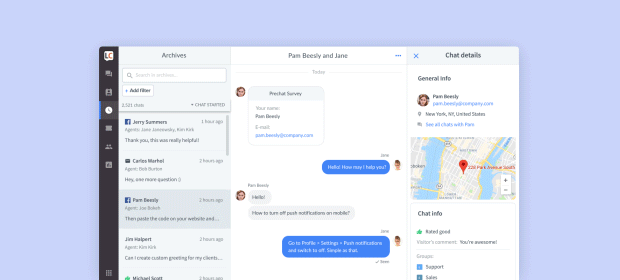 This advanced filtering option is available for the Agents, Groups, Tags, Sales and Goals filters.
In the future, we're planning on adding more operators, including AND.
Coming up next: Tickets
To sum up, the new Archives section makes it much easier to find specific cases and to access past information.
You will be able to check it out in your LiveChart by enabling the new design option in your profile menu (bottom left of the app). The new Archives will be released between late January and early February.
As always, we're eager to hear your feedback! Let us know what you think about these changes through our Community.
What's more, we're already working on the next part of the new design: the Tickets section. You can expect a cleaner look and more helpful UI that will help you take care of cases that can't be solved over chat. See you in a bit!